Available for long-term rental
Looking to rent a home in Jerusalem for a sabbatical? Checking out the neighbourhood with a view to relocating? Been transferred for work? Need to rent while your home is being renovated or built? Or just looking for a place to live? We will find you the long-term rental best suited to your needs.
4.5 rooms on Tarshish
4.5 rooms on Tarshish
Neighborhood:

Gilo
Bright, 100m² apartment on 3rd floor of 4 floor building available for long term rent. 4 rooms, 3 balconies. Built in wardrobes in 2 of the bedrooms, plus storage unit in the entrance to the apartment, and many shelves on the balcony attached to the bathroom. The bathroom has a separate bath and shower, and there is an additional toilet. The apartment has a dud shemesh and air conditioning.
The kitchen has been renovated and includes a stove and oven. There is an option to build a succah in the common area on the same floor as the apartment or one floor above. There is parking under the building for residents.
Price:

₪ 4,700

View in US Dollars
2.5 rooms on Keren HaYesod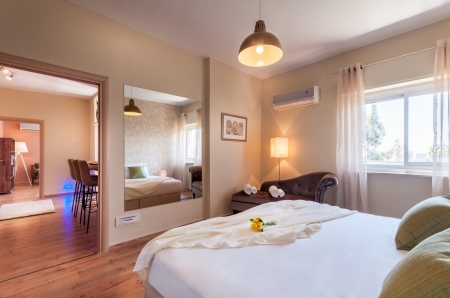 2.5 rooms on Keren HaYesod
Neighborhood:

Talbiyeh
Gorgeous 2.5 room (2 bedroom) fully furnished 3rd floor penthouse apartment on Keren Hayesod in Talbiyeh for long term rent.
Apartment has a big succah balcony (35m) on 2 sides with a great view.

Fantastic location, 5 mins from the City Centre and Independence Park,10 mins from Mamilla and the Old City, close to the Great Synagogue and many others, as well as The First Station, Emek Refaim and the Cinemateque and near shops and bus lines.
Price:

₪ 6,900

View in US Dollars
Studio Apartment with a view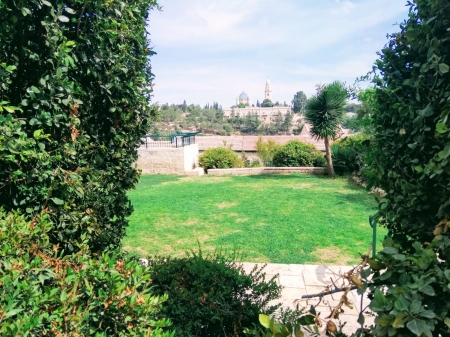 Studio Apartment with a view
Neighborhood:

Yemin Moshe
Tastefully decorated and furnished 18m ground floor studio apartment with courtyard and a view on Hatachana in the beautiful neighbourhood of Yemin Moshe.
Arnona & Va'ad Bayit included in rent.

Easy access to the Old City and the City Centre, Mamilla, the First Station and Emek Refa'im are all within 10-15 minutes walk. Bus stops and a variety of synagogues are close by.

Price:

₪ 3,500

View in US Dollars
Mishmarot 6 room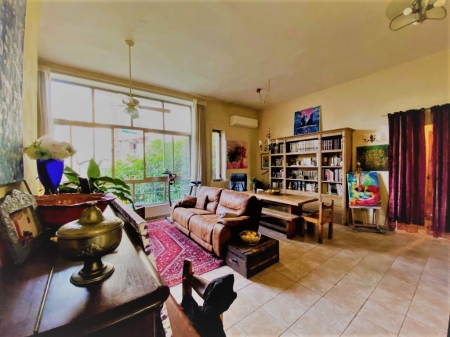 Mishmarot 6 room
Neighborhood:

Musrara
6 room, 137m, renovated, fully furnished apartment for rent with immediate occupancy, on the 1st floor of a historic building on the quiet street of Mishmarot. It has a spacious living room, a large, well-designed kitchen, 2.5 bathrooms, high ceilings and a lot of character. There is air conditioning, heating and a balcony with part succah area. One of the bedrooms has a separate entrance and could be used as an office or a clinic.

The apartment is in the iconic area of Musrara, just a few minutes walk from the Old City, City Centre and Mamilla.
Price:

₪ 12,500

View in US Dollars
4 room, new building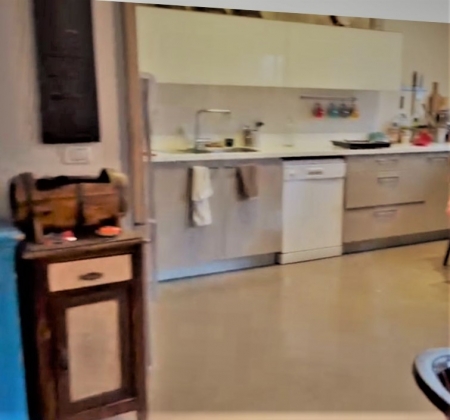 4 room, new building
Neighborhood:

Katamonim
Extremely spacious 4 room unfurnished, ground floor apartment in a new building on Rashbag in Katamonim.
2.5 bathrooms, big succah balcony, central air conditioning, heating from air
conditioning, parking, machsan.Building is handicapped accessible and has a shabbat elevator.
One minute walk to Park Hamesilla, 5 minutes walk from Matan, close to
shops, bus stops, Emek Refaim and parks.
Price:

₪ 9,200

View in US Dollars
Beautiful, bright 2-bedroom apartment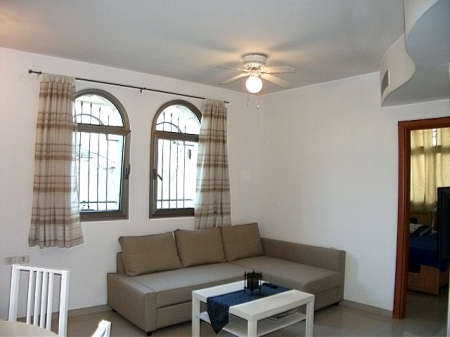 Beautiful, bright 2-bedroom apartment
Neighborhood:

Nachlaot
Beautiful, bright, refurbished 2-bedroom, ground floor furnished apartment on Alma in Nachlaot, just off Bezalel and very near Sacher Park. One bedroom has a double bed, the second has twin beds as well as a work station and the living room sofa opens up to sleep 2 more.
There is a fully fitted and equipped kosher kitchen, complete with Shabbat plata and urn and the apartment is air conditioned.
Great location, 10-minutes walk to the City Centre and the Central bus station, 5-minutes from the famous Machane Yehuda market, close to the light rail, shops and bus stops, easy walking distance to the museums, the Knesset and various synagogues, 20 minutes walk to Mamilla and 30-minutes to the Old City
Price:

₪ 5,800

View in US Dollars